Tourism
Lot et Garonne, is known as 'la campagne' (the countryside), yet the region is getting more popular among tourists. It is situated just below the Dordogne.
The department is an area with varied landscapes; Both flat and hilly areas known as 'landes' and areas where chalk cliffs dominate the view. Thanks to the mild climate, is it the region with the largest orchards of Europe.
Numerous waterways cross the department, for example, the Lède, the Lot, the Garonne, the Baïse and the Canal des Deux Mers. For water lovers, there are 200 km navigable waterways.
This region is also known by its numerous castles and beautiful fortified towns. Monflanquin, Biron, Duras, Beauville, Bonaguil, Nérac are beautiful examples of it. These cities still have local markets and village festivals, loved by tourists.
Monflanquin is a 13th-century bastide and is situated on the slopes above the river Lède. The town centre has recently had a makeover. The main streets end at Place des Arcades, situated on a hillsite. Here you can find the 'Musée de Bastides' where you can experience the history and the architecture of the bastides. There are still old authentic houses with arcades on the market square. The Église Saint-André is very lovely. Monflanquin also possesses three medieval gardens filled with ornamental plants, vegetables and herbs. High above the city is the Château de Roquefère, which is not open for public.
The region is also known for the many hiking and cycling trails as well as the mountain bike routes. Canoeing, fishing or other water sports are nearby.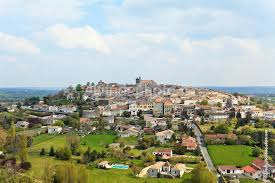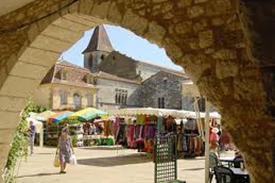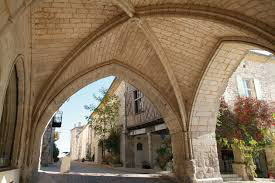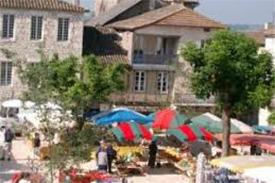 Something more remote but well worth the effort to visit.

• Saint-Cirq-Lapopie (94 km – 1 h 40 min) is considered one of the most beautiful villages of France, and is a huge tourist attraction.
• Rocamadour (95 km – 1 h 50 min) is the most visited town of France after Mont Saint Michel and also comes in second place, after Lourdes, for pilgrimages.
Other cities:
Monflanquin: 3,5 km – 6 min
Fumel: 18 km – 20 min
Villeneuve-sur-Lot: 24 km – 25 min
Bergerac: 47 km – 45 min
Agen: 56 km – 1h
Cahors: 73 km – 1h 15 min
Montauban: 89 km – 1h 25 min
Toulouse: 141 km – 2h
Monflanquin is about 290 km – 3h 30 min away from the Spanish border, 532 km of Barcelona – 5h 30 min.